Further reading recommended by Yoko Ono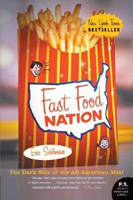 FAST FOOD NATION
by Eric Schlosser
If this book doesn't make you eat better, I don't know what will. By changing from consuming chemically ridden mass-produced food to eating locally grown organic food, we can give ourselves a longer and healthier life.
THE ONE-STRAW REVOLUTION: AN INTRODUCTION TO NATURAL FARMING
by Masanobu Fukoka


THE OMNIVORE'S DILEMMA
by Michael Pollan


STUFFED AND STARVED
by Raj Patel
Author's website
ULTRAPREVENTION: THE 6-WEEK PLAN THAT WILL MAKE YOU HEALTHY FOR LIFE
by Mark Hyman and Mark Liponis


SKINNY BITCH
by Kim Barnouin & Rory Freedman
Authors' website
50 SECRETS OF THE WORLD'S LONGEST LIVING PEOPLE
by Sally Beare


LOVE YOUR BODY
by Louise Hay
This is a very practical book. Every page just lists a part of your body and one or two lines of blessings you can repeat. Repeat out loud. When you need it quickly – like you had a rough night,  your kidney is hurting,  your liver is feeling heavy but you have to go into the subway/the tube as soon as you can –  go to the pages in Louise Hay and just bless your liver and kidney before your morning starts. Isn't that great? Don't feel guilty if you forget to do it! I forget, too, you know. But my liver and kidney seem to understand me by now, that I do care about them.
Author's website
AGELESS BODY, TIMELESS MIND
by Deepak Chopra M.D.
For your body and mind. I recommend all books by the same author.
Author's website


If you have books you would like to recommend that relate to MIRACLE APPLES, our health, food and diet, please discuss them in the Comments below.