Currently Hanging
by Jen Graves on The Slog at The Stranger on 8 July 2009
Yoko Ono's 1961 artwork Painting to Hammer a Nail is a white painted wood panel with a hammer hanging from a chain attached to it, and a box of small nails sitting next to it.
The title and the stray nails already in the board suggest that you should, in fact, use the hammer and hammer your own nail.
Last week when I was in the show [at Seattle Art Museum, 25 June – 7 Sept 2009] I heard much hammering. And here's what the painting looked like at the end of the week, when last I saw it.
Well, it seems the storm of weekend visitors had other ideas. This is what Painting to Hammer a Nail looked like Monday morning.
Yoko, what do you think?
Thank you, Jen! I had a great laugh with my friends. yoko
The Yoko Ono continues to evolve
by Regina Hackett, Arts Journal, 23 July 2009.
From Target Practice: Painting Under Attack, 1949-78 at the Seattle Art Museum, Yoko Ono's Painting to Hammer a Nail invites the audience to pick up a nail and pound it into a wood panel painted white.
Two weeks ago, the audience decided to up the ante. (Story here.) Instead of continuing to pound nails as per the artist's request, they turned her piece into a community bulletin board.
Two photos from yesterday, from SAM's Nicole Griffin.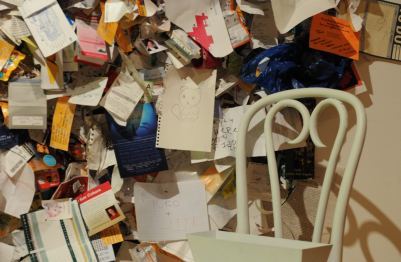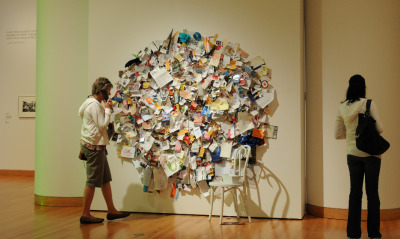 Credit goes to SAM for letting viewers be their own version of participants. As Anne Midgette, the Washington Post's excellent music critic, noted in the comments thread to the story linked above:
In 1998 or 1999, I reviewed the major survey of performance art at LA MoCA for the Wall Street Journal (I don't have the catalogue with me in DC). Yoko Ono's "Painting to Hammer a Nail" was on display there too – with one key difference. There was a small sign next to the piece saying "Please Don't Touch." I'm glad to see that the piece has now been re-activated (and/or re-hammered).