When the good folks at the Huff asked me to write a piece for the launch of the New York page, it was kind of like the feeling I might get if a friend or my sister ever asks me to be the maid of honor in one of their weddings: first, delight. Then, utter dead brainwaves. Too much to say. So much to say. Can't I just submit a logo of I "heart" New York? Can I get drunk before this toast?
I have a picture of myself in high school on the corner of Amsterdam and 101, holding a cell phone as big as a bible, half-drunk in tight black pants and probably smelling like cigarettes and popcorn and woodchips, the way bars used to smell in the old New York, before they started smelling mostly of expensive stockbroker cologne (and then, well, cheap ex-stockbroker aftershave). Is that New York? Photoshop a pizza in there and a bag from a bodega, and it's the cliché autograph of the city that some of us know first-hand from the sweaty subways, lazy Susan of restaurants and almost suffocating agenda of things to do that it almost fells like theresnothingtodo– and to some it's just that place from Sex and the City or Woody Allen or maybe even Jack Kerouac: a myth, a Utopia, a bully, a golden coin or a crushing monster, whichever way you've looked at it. The funny thing is, if you've ever lived here, it's all those things.
I grew up here, went to college here, then learned to drive two years ago so I could move to LA to try to do something else, live somewhere else, do normal things like shop in a supermarket where the aisles where wide enough for two carts to actually pass by each other or buy more than one roll of paper towels at once. It didn't stick. It might be worthwhile to say that in over a year in Los Angeles, through two 90-degree summers, a rainless spring and a hike-worthy Christmas day, the most notable purchase I made as an Angeleno was a thick, black wool coat with silver-bullet buttons. Not to wear in LA, naturally, but to become my uniform in New York City once I'd moved back. Chick and slim-fit, it was the only thing I bought in that entire year that felt like me. When I wore it out my first night back home to a bar in Chinatown, I realized that what seemed "thick wool" in LA was barely a sweater in New York winter. I froze my ass off and caught a cold.
Over the past year I've covered a number of things for the Huffpost – music, politics, culture and, more often than not, where the three intersect. Interviewing a score of subjects for here and other outlets, even if we are supposed to be talking about a new album or protest song or policy, the topic somehow always turns to New York. I once hung up after a conversation with Yoko Ono after she mentioned dancing down the streets of Manhattan every day, not in her mind, but actually twirling. I initially had laughed, but then I thought about it for a while and came up with endless situations where I did the same – following a troupe of friends dressed as gypsies down Canal (true), at 4 am after 80's night at Don Hills, in Central Park, and as a little girl, leaving school on the Upper East Side in a patterned blue dress and red shoes and pigtails, like a mini-Dorothy. And then many other times, just because…
I'll be continuing that bad habit of digressing on my interviews and talking about New York, and instead of having to ignore that five or ten minutes of tape, I'll be printing it here – telling you about the city according to some of my favorite Manhattan bands and other twirl-worthy residents (if you have any requests, speak up. Want to know about where the members of the New York Dolls get their bagels? Let me know.) I'll also be telling you about the best up and coming acts fresh out of the five boroughs and where to see them, hopefully giving you a little guidance on that suffocating agenda I mentioned before.
I never thought I'd find myself quoting LCD Soundsystem, but I'm going to, so consider yourself warned. The chorus of a song goes, "New York I love you / but you're freaking me out." It's about the city's changing dynamic, how a rich mayor is cleaning things up and shipping things out, about how we all want New York to be whatever it was before. Since the song came out, things have changed again. "Maybe the plus side of this recession is that New York will go back to being the way it used to be," we're all saying. The funny thing about this statement is while we all may reminisce about a time when folk-singers played on Bleecker and not frat boys, when you bought drugs at CBGB's and not John Varvatos button-ups or when subways had graffiti and not two policemen checking your gym bag for explosives, there's nothing more New York than just living in the moment. Seeing the past, seeing the future, but mostly just Being. Here. Now.
But that's the best thing about twirling in New York. You get to see the city from all angles all at once, in a quick, dizzying furry. And maybe that's best. When it gets too much, you just sit down and look up at the skyline. Here. Now.

Previously by the same author…
Talkin' Peace and John With Yoko Ono
by Marissa Moss, The Huffington Post, 21 August 2008
Much has happened since John Lennon recorded "Give Peace a Chance" 39 years ago with new bride Yoko Ono in a Montreal Hotel Room, during their "Bed in For Peace." Presidents have come and gone, wars lost and won, and no one's talkin' much bout Timmy Leary, Tommy Smothers, Tommy Cooper, Derek Taylor anymore. One thing hasn't changed: we are no closer to peace. We've barely given it a chance.
Which is why Yoko Ono, famous Beatle wife, musician and artist, decided that it was the perfect time to re-release her husband's classic anthem. Only this time, the spare chanting has been replaced by steady dance beats, with a little help from the likes of remix masters Tommie Sunshine, Eric Kupper, Johnny Vicious, Dave Aude, Morel, Mike Cruz, and Double B. Last week, the track reached Billboards's Hot Dance Club Play Chart, proving an age-old anthem is as relevant as ever when given a makeover by a woman more visionary than given credit for, though every bit as controversial.
"Headlights in action, imagine peace," Ono deadpans on the Tommie Sunshine remix, talking determinedly through a series of lyrics, both old and new. More somber than the original, odd considering the incessant synthesizer in the background. It's a call for peace, with the tone of 39 years of everything but.
"[Ono] and John saw what was happening to the world we live in almost 40 years ago and gave us this beautiful song,"DJ, producer and remix artist Tommie Sunshine told me. "Now, when we need it the most, I have been given the chance to serve it back up with a modern slant and that is exactly what I did. The reason why it sounds a bit dark is because the world we now live in is a bit dark and it simply had to reflect that…If John was here to see what we have done to New York and the rest of this country, he would cry his eyes right out."
For Ono, amidst the darkness always lies hope–a sense of optimism that can either seem
naïve or steadfastly inspirational, depending on how you look at it. I called Yoko at home in New York to talk about giving peace a chance–both the song and the mission.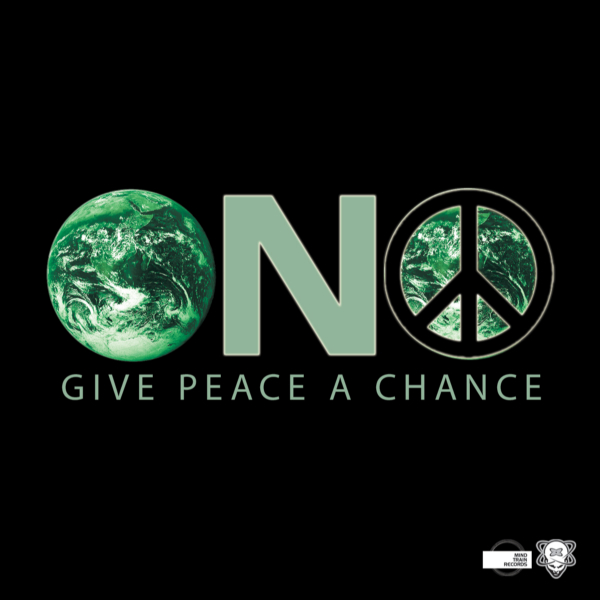 "Give Peace a Chance" first hit the charts 39 years ago. How does it feel to be on top again?
Well, it's always a nice feeling especially with this one because it's Give Peace a Chance, and I just didn't think it would make it.
Why did you feel that now was the right time to re-release and re-introduce this song?
I really wanted to do this, it was my statement because right now the world is in turmoil and we really need to talk about world peace. It's almost like giving someone soup- you give them soup to soothe their stomach. But this is like a peace soup, giving peace soup to everybody. And [with a dance mix] I just wanted to make a statement that would spread, that would be recognized. And dance is very important. I feel that dance is such an important part of our lives, for our health mentally and physically.
So do you dance every day?
I am either dancing in my mind or when I am walking the city, because I like to walk a lot – my steps are like dance steps. I feel like I am always dancing, dancing through life…we should all do that, because it is better than marching through life.
I love that. So were you pleased with the outcome of this song?
I am very pleased, and it's an honor that the artists I worked with wanted to do it.
Tommie Sunshine said working with you was a dream come true.
Well, Ditto.
Do you think that this idea of peace is the same as when this song was written, or has it taken on a new meaning?
In those days it was a bit tongue and cheek but I think now it is a more serious time–we all want peace, the whole world it asking for it. It's upfront, it's new, it's real. And that has to come through.
Are other musicians, artists, those with a public voice, doing enough for world peace or to promote peace? What are you doing next to promote peace?
I think so. There are two things in this world: peace industry and war industry. And anybody who is doing something peaceful in their work is in the peace industry. It needs to keep developing and spreading. That's what we are doing….For me, I'm into just now the imagine peace tower. On October 9th I go to Iceland and put a light on the imagine peace tower. It's giving a lot of solace to people. Go to Imagine Peace. When you click into it, you'll suddenly realize that we are all family.
How would John feel about you remixing the song?
I think he wanted this to happen – I think that if he were around, he'd do it. He did it now, whether I thought of it, or he did- I really believe in spirits, and I think his spirit is still alive. At the time, the lyrics were very current, with a sense of humor, and that's John. But now, it's a different society, different world. He would have loved the fact that I didn't just throw it in the old track.
Make it new and relevant.
I think so.
Are you following the election? Does either candidate represent peace to you?
I feel it's great that [the election] is going on, and that people are going to be really active about making sure that things are going to be all right for us. But meanwhile, we have to do some grassroots stuff too, and I believe in a grassroots movement.
Would you endorse a candidate?
Institutional politics…good luck to them. But I like grassroots work that has nothing to do with institutional politics, I suppose. You know, in the grassroots movement there is no red tape. The things that we are doing in the grassroots movement are of course going to effect the election. But in a roundabout way. Whatever happens, it is going to be a trying situation for the next president.
What can young people do to organize and bring about peace? Is protest effective?
The only thing that anyone should know is that each person's power is incredible, infinite-trust in your power and do things in a creative way, as long as it doesn't hurt others or hurt society. We all reach for world peace.
Finish my line to reflect today's zeitgeist: everybody's talking about….
Wanting world peace! You might think that some people are into war. But even those people in the bottom of their hearts, they want world peace. They are just going about tit a different way.