Basement Jaxx: Scars – new album – out 21 Sept 2009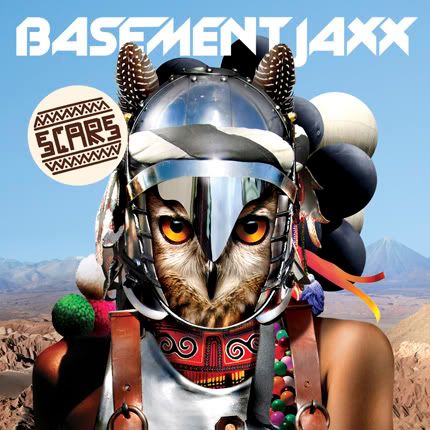 The long-awaited new album from Basement Jaxx, entitled "Scars", will be released on September 21st.
You can pre-order your CD copy from Play.com and get an exclusive bonus track by clicking here.
Preorder from the iTunes Music Store here:
Record your own version of the Basement Jaxx song Day of the Sunflowers (We March On)
Record your own version of the Basement Jaxx song Day of the Sunflowers (We March On)
The Times, May 22, 2009
Listen to The Times' version
Download the sheet music and lyrics
Record your own rendition of Day of the Sunflowers (We March On) and The Times will stream the best on Times Online. Upload your video to YouTube and, so we can find it, make sure the headline reads 'Times Online: we do Basement Jaxx' and put 'Times Online' and 'Basement Jaxx' in the tag words.
Basement Jaxx know better than anyone how to pen a catchy ditty, and this one will have you dancing round your kitchen like a crazy space pirate! Called Day of the Sunflowers (We March On), it's reproduced here for you to play at home. Whatever you play, be it violin, guitar, piano, recorder, bagpipes, bongos, turntables, Lithuanian noseflute or a glockenspiel made of dinosaur bones found on the Moon, gather your household and knock this one out at full blast. It'll kick up a right royal rumpus!
Felix Buxton of Basement Jaxx
Where did the song come from?
Well, one day, I was walking through the countryside and there was this massive field of sunflowers. It seemed to me like they were marching over the hill, like in Fantasia with all the brooms. They were all looking up to the sky and they seemed like a nation of future beings with hope and positivity. It's very simple, the melody. I used to listen to this Japanese record when I was a toddler, very simple with drums and flutes. What I remembered became the melody for this song. It's about the essence of life and sunshine drying your tears.
Simon Ratcliffe of Basement Jaxx
We were really happy to get involved with the House of Fairytales: it's encouraging children to use their minds and their imaginations, to be creative. Day of the Sunflowers seemed ideal for what they were doing. We were asked to provide something that people could play at home and, of all the stuff we've done, it's something with a very strong, clear melody. I have a two-year-old daughter, but there was something childlike in our music anyway, I think, before she came along. Kids' reaction to music is really instant: you can play them something and they either want to hear it again and again or they don't like it at all.
Our version of Day of the Sunflowers features vocals by Yoko Ono, who we got in touch with after finding out she was a fan of another of our songs, Romeo. I think she was a bit wary of going into the studio with a bunch of DJ/producers, but she was great. She said: "Do you want me to do the Yoko Ono thing?" and we said: "Yes please!" She went off with her wails — I love all that: it's freedom and expression and it's human. She's 76, getting on, but she looked very well and youthful.
I'd really like to hear other people play the song. They can interpret it themselves without any preconceptions, and then hear what the Yoko Ono recording sounds like.
Basement Jaxx's single, Raindrops, is out on June 22 on XL
www.myspace.com/basementjaxx