ORNETTE COLEMAN'S MELTDOWN 2009
Sunday 14 June sees the first ever UK performance by Yoko Ono Plastic Ono Band, with guest artists including Sean Lennon, Antony Hegarty,  Mark Ronson, Chimera Music artists Charlotte Muhl, Yuka Honda, Shahzad Ismaily, Pamelia Kurstin and Ohyamada "Cornelius" Keigo, Hirotaka "Shimmy" Shimizu & Yuko Araki from Cornelius.
It is also hoped that Ornette Coleman will join Yoko Ono Plastic Ono Band onstage.
Coleman and Yoko last appeared together at London's Albert Hall in 1968 performing the song 'AOS', the recording of which would appear on record in 1970 on Ono's debut album Yoko Ono/Plastic Ono Band.
In what will be a night of many surprises, it is possible that this incarnation of Yoko Ono Plastic Ono Band will include appearances from other guest musicians.
Yoko Ono has just finished recording her brand new studio album, which she also co-produced with her son Sean Lennon. The album will be released later this year but it is expected that Ono will preview some of the new material during her Meltdown show.
Yoko Ono said:
"I am thrilled to be asked to perform at Meltdown and especially excited to play the first ever UK show as Yoko Ono Plastic Ono Band. It will also be fantastic to work with Ornette again."
The initial line-up for Ornette Coleman's Meltdown has just been announced.
Tickets go on sale to Southbank Centre Members at 10am on Wednesday 29 April.
Tickets go on sale to general public at 10am on Thursday 30 April.
Meltdown events sell out fast, become a member now for your best chance of getting tickets.
If you are planning to try to buy tickets on Thursday 30 April and do not already have a login for the Southbank Centre website, we strongly recommend registering prior to tickets going on sale in order to buy tickets online.
MORE EVENTS AND ARTISTS TO BE ANNOUNCED SHORTLY.
Line-up for MELTDOWN 2009:
Saturday 13 June
The Roots with guest David Murray and more
produced in association with Jill Newman Productions
Royal Festival Hall
Saturday 13 June
David Murray & The Gwo-Ka Masters
+ Jamaaladeen Tacuma
Queen Elizabeth Hall
Sunday 14 June
YOKO ONO PLASTIC ONO BAND
Featuring Sean Lennon, Cornelius and more
Royal Festival Hall
Monday 15 June
Baaba Maal
Royal Festival Hall
Monday 15 June
The Freewheeling Yo La Tengo
Queen Elizabeth Hall
Tuesday 16 June
Moby
Royal Festival Hall
Wednesday 17 June
Bobby McFerrin
Royal Festival Hall
Thursday 18 June
Patti Smith and The Silver Mt. Zion Memorial Orchestra
Royal Festival Hall
Friday 19 June
Ornette Coleman: Reflections of The Shape of Jazz to Come
+ Master Musicians of Jajouka
Royal Festival Hall
Saturday 20 June
Charlie Haden: Liberation Music Orchestra with guests Carla Bley and Robert Wyatt
+ The Bad Plus
Royal Festival Hall
Sunday 21 June
Ornette Coleman: Reflections of This is Our Music
+ Master Musicians of Jajouka
Royal Festival Hall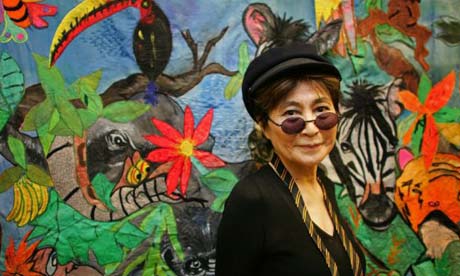 Magic from the Meltdown pot
by Ally Carnwath, The Observer / Guardian.co.uk
Yoko Ono. Photograph: Christopher Furlong/Getty
No mud, no chemical toilets and a line-up that is as eclectic as ever. This year's Meltdown, the collection of concerts, collaborations and esoterica curated each year by a musical colossus will live up to the festival's reputation as one of the summer's most intriguing fixtures. The line-up has been put together by American musician and composer Ornette Coleman, who was one of the leading lights of the free jazz movement in the 1950s, and the concerts will take place at London's Southbank Centre from 13 to 21 June. Coleman will provide two of the most anticipated gigs of the festival, but here, as Meltdown's media partners, we exclusively reveal five of the other acts who will light up the Southbank this summer.
Link: http://www.southbankcentre.co.uk/meltdown
Twitter: @meltdownfest
Yoko Ono
The biggest coup is both a UK debut and a genuine piece of pop heritage. The Plastic Ono Band were formed by John Lennon and Yoko Ono just before the Beatles split. Sean Lennon will be among the guests joining Ono for the band's first British performance.
Baaba Maal
The Senegalese singer returns to the Royal Festival Hall, scene of his triumphant 1998 gig which is often cited as one of the venue's best world music performances. Maal's shows are known for their blend of African roots and high-kicking Mbalax pop.
Patti Smith
The iconic punk poet, who curated Meltdown in 2005, will collaborate with A Silver Mt Zion, the cult Canadian post rock band. Both performers have a reputation for searingly intense, often heavily improvised performances.
Yo La Tengo
Twenty-five years after forming, the New Jersey three-piece remain one of America's most influential art-rock bands. Expect a set that plunders their 14-album career and takes in genres from jazz to soul to alt-rock, pop and funk.
Moby
He's best known for providing the chill-out soundtrack to the turn of the millennium with Play, but Moby's experimental side will be to the fore at Meltdown. His set is likely to be big on new material from new album Wait for Me with a twist of early-00s nostalgia.
Reviews
Yoko Ono steps out of John Lennon's shadow
By John Aizlewood, Evening Standard 15.06.09
As if to prove that everybody is ultimately rehabilitated, Yoko Ono is no longer that strange little woman who split up The Beatles (a ludicrous notion then as well as now) who — when not making her own unlistenable albums — went on to ruin most of John Lennon's.
Last night, the second of the South Bank's mouth-watering Meltdown Festival, not only was she looking and moving remarkably well for a grandmother of 76 (we'll have to agree to forget the cap she appeared to have purchased from a website specialising in Dick Emery memorabilia), but Ono basked in new veneration and, on balance, rightly so, having curated Lennon's legacy with love and dignity for the last 29 years in the face of more than one philistine onslaught.
And while her albums will never be especially easy on the ear, they are testament to a woman with an undeniably singular vision.
For all her on-stage curtness (you still wouldn't want to cross her), she admitted to being nervous and she handled herself gracefully: "People talk about me and Britain having a love-hate relationship. To me it's always been a love relationship."
Backed by a tightly rehearsed, often brilliant and always empathetic Plastic Ono Band featuring her son Sean on guitar, piano and drums, members of Japanese band Cornelius, plus cameos from Mark Ronson, Antony Hegarty and jazz colossus and Meltdown curator Ornette Coleman, Ono's first British performance since 2005 was packed with unreleased material. Reassuringly, it was as uncompromising as the woman herself.
Often, she appeared to be on a one-woman mission to keep the Japanese wailing industry afloat, especially when squawking her way through an excerpt from Don't Worry Kyoko (Mummy's Only Looking For Her Hand In The Snow) and the immaculately constructed Rising.
Meanwhile, the new Moving Mountains was entirely howling, but for all its incomprehensibility it mesmerised a crowd including Duran Duran's Nick Rhodes and ex-Smith Johnny Marr.
Aside from Kurushi, about a Hiroshima bomb victim and sung in Japanese with some rather am-dram coughing and choking, there were moments of undeniable tenderness, most notably two duets with Hegarty, Toyboat and I'm Going Away Smiling, a genuinely moving eulogy to her relationship with Lennon.
To close, Ono spent the dreamy but dancey The Sun Is Down flashing "I love you" in Morse code via a hand-held torch. The awed reception she received suggested the feeling is finally mutual.
Yoko Ono and Sean Lennon share spotlight with Mark Ronson for first performance of Plastic Ono Band in 40 years
By Jennifer Smith, Mail Online
Last updated at 1:51 PM on 15th June 2009
John Lennon's widow Yoko Ono took to the stage last night at the Royal Festival Hall last night for a performance with the group she first formed with her late husband John in 1969.
Formed with Lennon while he was still a member of the Beatles, Yoko, 76, and the Plastic Ono Band played for the first time since the original group's one and only gig the year they were founded, when fellow rock star Eric Clapton was also a member.
Plastic fantastic: Yoko Ono performing at the Royal Festival Hall last night
Forty years on, with son Sean Lennon as part of the new line up and producer Mark Ronson guest-starring on bass guitar, the group played as part of the Meltdown music festival held in London's Southbank Centre.
The band stepped into the UK spotlight to a warm welcome yesterday performing tracks from their most recent studio album, Between My Head and the Sky.
It was the first album released under the Plastic Ono Band's name since 1973's Feeling The Space.
Yoko, commonly blamed for the break up of The Beatles because of her close relationship with Lennon, also received a lifetime achievement award at last week's Mojo Music Awards.
Mrs Lennon: Yoko Ono with  a young Sean Lennon and husband John Lennon  shortly before his murder in 1980
The singer described herself as 'surprised' to have won this award, claiming 'I went on stage and people were warm to me. I didn't expect that.'
But despite negative public response to her achievements over the years – Yoko has produced 41 albums over the years, either alone or with Lennon -Yoko says John was always supportive, and would be equally so now.
'He would have said, 'I told you man,' she said.
'He was the only person who was really believing and promoting my work. Without that I might have been pretty discouraged.'
Not just a Beatle wife: Yoko Ono receives her lifetime achievement award, and right, Sean Lennon on stage last night with his mother
Other acts at the ceremony showed their support of the singer. Amongst others, Johnny Marr, guitarist of rock group the Smiths, described her as 'fantastic' and remarked: 'She had an awful lot of utterly terrible press that was completely uninformed and out of control for no reason.
'Her records are pretty great. She didn't really need to be a Beatle wife.
'She was doing some pretty good stuff as it was, and I think she's fantastic.'
Artist and producer Mark Ronson, 34, who appeared on stage last night with The Plastic Ono Band, spoke of his admiration for the singer.
'I'm a fan of hers,' he said. 'All those early Plastic Ono recordings are just incredible. She really helped change music in her own right.'
Jamming: Yoko Ono on stage with producer Mark Ronson last night who told the crowd she 'helped change music in her own right'