Q&A
---
YOKO ONO. HALF-A-WIND SHOW. RETROSPECTIVA: Performance Pintura de acción
---
YOKO ONO. HALF-A-WIND SHOW. RETROSPECTIVA: Performance Pieza cielo para Jesucristo
---
Nuevo Spot de la muestraYoko Ono. Half-A-Wind Show. Retrospectiva
---
The Guardian: Yoko Ono show at Guggenheim shines light on pioneering conceptual artist

Bilbao exhibition of installations, music and films demonstrates avant-gardiste's true talents, her reach and influence.
by Jonathan Jones, The Guardian, 13 March 2014
The ladder John had to climb up was very high," recalls Yoko Ono as we chat about one of her most famous works. It is called Ceiling Painting or Yes Painting, and it is one of the classics of conceptual art that fill her retrospective at the Guggenheim Museum in Bilbao. It consists of a stepladder leading up to a steel-framed panel and a dangling magnifying glass.
When John Lennon climbed up Ono's ladder at the swinging London gallery Indica in 1966, there were more steps, but the word written above his head was the same as in this version: a "yes" so tiny you need the magnifying glass to read it.
The smallness of the yes and the difficulty of reaching it reflected her pain at the time, Ono says. A relationship had just come to an end and she had a vision of a journey into the heights, "like a cathedral", to be rewarded by some kind of hope, some affirmation "on high".
As it happened, her hopeful artwork was to change her life. The most serious Beatle heard about the amazing artist who had shown up in London, went along for a private viewing and climbed that ladder to read the tiny word. The author of I Am The Walrus and Strawberry Fields recognised a kindred spirit.
So the work is best known nowadays among readers of Beatles biographies for its part in one of the great love stories of modern times. Yet Yoko Ono is much more than her fame.
She has lived in the most lurid and cruel of pop culture spotlights, reviled as the black-clad avant-gardiste who "broke up the Beatles", mocked along with Lennon for supposedly naive peace-mongering, and brutally widowed by gun violence.
Now her time has come. The Yes Painting is not here as a piece of Lennonabilia but as one of a hugely impressive array of installations, performance documents, "instructions", music and films that leave no doubt of a true original's influence on the art of this century.
Is there any contemporary art style she did not pioneer? At times this feels like a retrospective of Turner Prize winners: here's a film of a fly crawling on a woman's naked thigh that might be misattributed to Douglas Gordon or Damien Hirst; a cinematic celebration of bottoms Martin Creed might be proud of, a chair wrapped in desiccated fabric that is as poetic as any sculpture by Rachel Whiteread – all made by Ono more that forty years ago.

White Chess Set, 1966/2013. Photograph: David Hornback
In person, she's charming, authoritative and mysterious. She wears dark glasses and a hat indoors – but any first impression of hauteur is undercut by the way she keeps humorously lowering and raising her shades on her nose as she enthusiastically expounds her philosophy. Nor does she seem aware of my orders to stay clear of her personal life in this exclusive interview – which is just as well as it would be nonsensical. Art and life are the same thing for Ono. Her work is acutely, often shockingly personal. Conceptual art, she tells me, is "more expressive" than painting: a striking claim that her art proves true – at least when she's providing the concepts.
In 1964 a young woman knelt down before an audience in Tokyo and placed a pair of scissors on the ground in front of her. Members of the audience were invited to come forward, one by one, and cut off pieces of her clothing. In films and photographs of Cut Piece, as it is called, Ono maintains a passive deferential pose and expression as women and, more disturbingly, men cut off more and more of her clothing until she's kneeling in her underwear.
It is surely one of the most powerful of all feminist artworks. But did she think of it, I want to know, as a feminist statement back in 1964? Ono's intelligence flashes. "All powerful art has many layers of drama," she explains. "I was originally thinking of the Buddha and how he gave everything up." That ascetic surrender, she thought then, is what life is like for women, and she conceived Cut Piece as an "acceptance" of that reality. So it's not angry? "No, it's not angry."
Yet violence and pain streak through her art, for all its Buddhist acceptance. When her relationship with her boyfriend Tony Cox was breaking up in London in the late 1960s, she woke up one morning to find he had vanished from their all-white flat.
She responded by bisecting a roomful of their stuff – a chair, a framed painting, a case, a shelf unit, a kettle, a teapot, even shoes. It was not just spite: it was art. Her installation Half-a-Room is one of the most powerful moments in the retrospective. It's like a haunting relic of a tragicomic play, a set for a Samuel Becket monologue or an image from a sad song.
When it was shown at the Lisson Gallery in 1967, it looked to a Britain highly sceptical about conceptual art (to put it mildly) like ultra-hippie craziness. Today it is another Ono creation that seems like the prototype for about a hundred recent works of art.

River Bed, 1996/2014. Photograph: David Hornback
She called that Lisson Gallery show the Half-a-Wind show, and her retrospective is named after it. What did it mean? Like the half-destroyed room at its heart, the title spoke of loss, absence, incompleteness. "We are all just half a person", she says. In fact, at that moment she was in the process of finding her other half: Lennon helped with the exhibition.
You can't really get away from him at the Guggenheim, because their love was founded on artistic collaboration and he was her as she was him, artistically, in the late 60s and 70s.
Their relationship did not start with physical passion, she explains. Instead it began as artistic collaboration: when Cynthia Lennon finally caught them together, they had been up all night making art. Lennon's face hovers in grainy colour in their film Smile, one of the shared endeavours that sealed their love. There's a little work of art called Box of Smile: you look inside to see your reflection (you provide the smile). In an uncomfortable vintage David Frost interview, the art lovers present Frost with a version of this piece as they try to explain conceptual art to a television studio audience that looks like its average age is 100.
For all the bile unleashed on Ono in 1960s Britain, she got away with one stunt no recent artist has rivalled. "Amazing, isn't it?" she says happily, remembering how in 1967 the police let her wrap one of the lions in Trafalgar Square in a huge piece of cloth. Photographs of the happening look far more subversive, somehow, than today's routinised and respectable artworks on the square's fourth plinth.
The word "revolution" comes as readily to her lips today as it did when she and Lennon put up a poster in Times Square saying War Is Over (If You Want It). The counterculture she did so much to shape, and that she sees today in the internet, "is a revolution but there is no bloodshed; art quietly changed the world."
With such a sense of mission, she never worried about pleasing the public. Back then, "most people didn't want to know and I wasn't about to explain about it. My art was different from what was considered as art. My idea was that maybe one day 50 years later or 100 years later people might discover it."
At 81, she has lived to see that day. Her interactive feminist conceptual art, her films and installations, now look like beacons of what art is now and will be in years to come.
To visit this moving and beautiful show is to see what Lennon saw in her – a visionary he looked up to, an artist whose imagination and intelligence, he insisted, set him free and showed him a better life. He was right and the cynics who satirised her were wrong.
---
theartsdesk in Bilbao: Yoko Ono at the Guggenheim Museum
A fine retrospective of a conceptual artist whose work offers more light and shade than her spoken words
by Fisun Güner, theartsdesk
Addressing a crowd of journalists gathered at the press launch of her major retrospective at the Guggenheim Bilbao, Yoko Ono begins by telling us how cynical she is. It's quite a claim considering it's just about the last thing you'd ever think to call her. Perhaps she's finally tired of being dismissed as a naive idealist. But no, it's just a roundabout way for her to express her astonishment at the extraordinary architecture of Frank Gehry's glinting, titanium-clad masterpiece, which opened 16 years ago in this Basque city of northern Spain. Being "naturally cynical" she hadn't, she said, quite believed any of the claims made for it until she saw it for herself.  Now she wants to tell us that it's the best museum in the world.
Ono has a way of beginning stories that you imagine can only end on a negative note. But, by some cognitive sleight of hand, a kind of irrepressible Panglossian optimism prevails. Another begins with her musician/producer son Sean Lennon. One time, she says, he came to see her at her Dakota apartment in Manhattan and during the whole visit she just couldn't get him to talk to her. He could, she says, barely raise his eyes from his smartphone.
I'm wondering just how much this darker, or at least more uneasily ambivalent, side to her, manages to slip through unawares
Naturally you'd think this would be a cue to lament society's unhealthy attachment to technology at the detriment of nurturing proper relationships. But no, within blink of an eye, she's done a complete turnaround: she's telling us how technology and social media is an extraordinary thing that will bring world peace because we're all "communicating with each other now".  It will, she believes, be the making of us; an opportunity to build a better world. I'd like to say her optimism is infectious, but you detect something closer to cognitive dissonance.
I'm wondering to what extent this is reflected in her work. I'm wondering just how much this darker, or at least more uneasily ambivalent, side to her manages to slip through unawares, cutting through all the talk of universal love and peace to produce layers of meaning which are more questioning, more unruly and more difficult to neatly package.
Some of her more recent work does nothing to counteract an overweening whimsy. I find her series of Wish Trees, in which she invites visitors to jot down their dreams and wishes on a piece of paper which they then hang on a tree, largely uninteresting as art. I find her Smilesfilm (which is not in this retrospective) in which she invited everyone on the planet to upload pictures of their smiling faces, a bit vacuous. But that doesn't mean I find Ono uninteresting as an artist, nor her best work without power and resonance. And this retrospective provides an indepth insight more layered, more nuanced, more subtle, and finally more troubling, than either of those pieces.
Ono's most famous work, and certainly among her most powerful, is probably 1964 Cut Piece, first performed in Tokyo, then at Carnegie Hall in New York in 1965 (pictured right). For this, she invited members of the audience, both men and women, to cut through sections of her dress with a pair of scissors as she sat quietly on the floor of the stage, her expression impassive throughout. The New York audience behave respectfully, leaving her bra and knickers intact. Yet as we see her dress tugged and pulled by a succession of strange hands with sharp implements, the expectant erotic charge gives way to something not just more troubling, with its potential for violence, but more searingly poignant. Her passive surrender, her vulnerability, become a universal metaphor. We may view the piece as pioneering feminist art – although Ono has said that this is not really where the work began for her, but rather as an expression of Buddhist feminine acceptance – but I think of it as both a work about gender and as something which goes beyond the specifics of gender. It's a piece of distilled Beckettian poetry.
The exhibition's title, Half-A-Wind-Show, is named after her solo exhibition at the Lisson Gallery in 1967, where she first showed her installation Half-a-Room, a living room in which all the objects are shorn in half – half a female shoe, half a male shoe, half a bookshelf, half a glasses case, etc. Perhaps it's a rather blunt statement about lives half-fulfilled or half-lived, but nonetheless it's a visually strong piece. A similar installation, Balance Piece, 1997/2010, is a display of domestic appliances that hang mid-air, "pulled" by the giant magnate on the other side of the wall. Her work seems to anticipate many of the strange domestic appliance installations of Mona Hatoum.
Here too is the ladder that John Lennon climbed in Ceiling Painting, Yes Painting, 1966, at the groovy Indica Gallery in Mayfair. Reading the tiny inscription "Yes" on the ceiling with the dangling magnifying glass provided, made him feel like he'd found a kindred spirit even before they'd met. It was this that made Lennon, according to legend, bite the apple on the Plexiglass plinth nearby.
Deeply evocative but less well-known is Wrapping Piece for London (Wrapped Chair), 1966, which immediately reminds me of one of Sarah Lucas's abject chairs with stuffed tights. The chair is bound tightly in gauze and painted white. There are hints of a feminine form in the bulges beneath the ragged cloth. It's an incredibly strong piece.
The following year Ono managed to wrap one of the Trafalgar Square lions, an act reminiscent of what Christo and Jeanne-Claude, those monument-wrapping doyens, were already doing. She only got away with it because she said she was making a film (such is the power of the media to trump authority). In the photographs you see the curious crowds gather round to witness this politically subversive action.
Another wrapping piece is far more visceral and violent, and seems to form part of a personal memorial. Sack with Baby, 1993 is part of a series of objects from Family Album (Blood Objects), in which bronze casts of ordinary objects sit on a glass plinth. The baby-shaped sack is splattered with blood-red paint, as are all the other objects. On a glass plinth right next to Sack with Baby are bent coat hangers, similarly splattered.
In a later work called Vertical Memory, 1997, you read of her abortions in a compelling text piece outlining significant episodes of her life over which a man has presided in a position of authority, including the doctor who performed her abortions. Above each of these short, stark statements we find the same cropped and blurred, sinister-looking photograph of a man in glasses looking down. The image is, in fact, an amalgam of photographs of John Lennon, her son Sean, and her father, three of the most important men to have featured in her life. But there's no tenderness to the piece. Ono presents a story in which her actions are contingent in each case on the male authority figure, except for the final piece in which she rejects a given instruction.
Among my own favourite works are White Chess Set, 1966/2013, a game that is impossible to play since all the chess pieces are white, so there can be no winners, no losers, no stalemate; Touch Poem, No.5, 1960, an eloquently tactile book featuring coils of human hair; and the Museum of Modern (F)art, 1971, for which Ono took out in an ad in the Village Voice to announce her exhibition at MoMA (pictured left). Accompanying it is an amusing film in which random New Yorkers are asked if they'd seen it yet, though the exhibition didn't actually exist and the ad was placed only to highlight the fact that so few female artists got to show within its hallowed walls.
The retrospective is curated by Jon Hendricks, an expert in Fluxus, the Sixties conceptual art movement of which Ono was a leading member, and it features some 200 works. In parallel to her career as a visual artist, Ono has recorded countless albums and performed live in a multitude of collaborations, most recently with Lady Gaga, Iggy Pop and Antony Hegarty.
The filmed concerts, along with her recordings, make up the last room of the exhibition. Her voice – it's admittedly thin and she seems not to have too much vocal control, but mostly she makes rhythmic plosive sounds – may not be music to everyone's ears, but Ono is a fearless and generous artist and this is a fine retrospective of a career spanning over 50 years.
---
Photos by Alvaro Barrientos from Associated Press
---
Yoko Ono. Half-A-Wind-Show — A Retrospective, Guggenheim Bilbao
March 14th to September 1st 2014, sponsored by Seguros Bilbao
From Spanish News Today
In celebration of Yoko Ono's eightieth birthday in 2013, the Guggenheim Museum in Bilbao hosts a unique retrospective of one of the most influential artists of our times—a living legend who holds a special place in contemporary art, music and experimental film—Yoko Ono.
The exhibition, sponsored by Seguros Bilbao, includes nearly 200 pieces and encompasses the entire third floor of the Museum. Visitors to the Half-A-Wind-Show can enjoy more than five decades of creativity, from the mid-1950s to the present, in the multi-faceted artistic universe of Yoko Ono. The exhibition includes some of her most recent creations, as well as a new version of the installation and performance Moving Mountains.
Visiting the Guggenheim Bilbao:
Guggenheim Bilbao
The Guggenheim Bilbao is right in the city centre of Bilbao near to the river. It's worth checking the website www.guggenheim-bilbao.es prior to visiting for useful information about how to get to the museum, options on offer, tariffs etc. There is even information giving those with camper vans advice about where to park.
Opening Hours:
Tuesday to Sunday 10 am to 8 pm
Monday closed.
July and August open every day
Audio guide included
The price of admission includes an audio guide with explanations of the Guggenheim Museum Bilbao's architecture and exhibitions, allowing visitors to enjoy a self-guided tour at their own pace.
There is another interesting exhibition entitled "The body that carries me" by Ernesto Neto until May 18th.
Yoko Ono. Half-A-Wind-Show — A Retrospective, Guggenheim Bilbao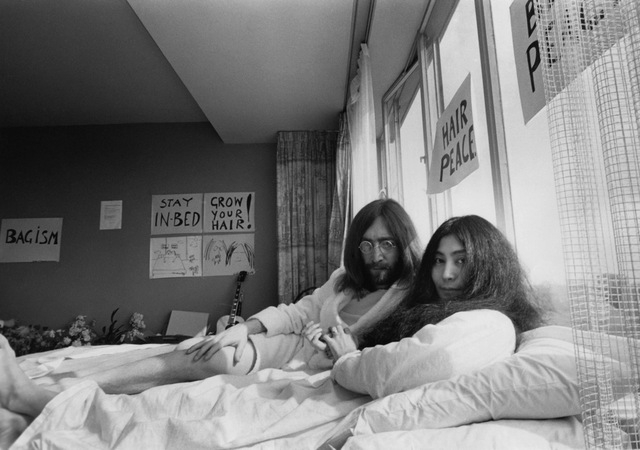 Yoko Ono (B. 1933, Tokyo) has been recognized as one of the most outstanding avant-garde artists for over sixty years. She is a pioneer in many of the artistic fields to which she has dedicated her life, and is considered to be one of the precursors to conceptual art, film and performance art. She is also a key figure in the music world, having produced numerous albums over the years.
Visitors to the third floor of the Museum, are led through the artist's diverse spectrum of mediums used throughout her extensive career: from plastic arts to drawings, poetry, film, music, installations, video and performance art, among others.
This fascinating journey delves into the main recurring themes and ideas that have driven her career, including her belief in the power of the imagination, her political commitment, her sense of humour and the absurd, her sensitivity to global conflicts, and the role of women in society. Ideas inspired both by her own life and universal questions have driven her to adopt a prominent position at the forefront of movements such as peace and feminism
Yoko Ono's work is based on ideas, some of which are manifested in the form of objects while others remain immaterial, enriched by certain traditional Asian elements. A poetic dimension can often be denoted in her work—a subtle sense of humour and an attitude of social criticism anchored in concepts of unity, trust, and balance.
Yoko Ono's Instructions are the starting point for many of her pieces; the artist's verbal and written scores invite viewers to execute both unrealistic and plausible actions, thereby giving the observer an active role in the process, encouraging them to participate and delve further into self-reflection and the mind's potential.
The word "Participate" that appears next to some of her pieces is Yoko Ono's direct invitation to interact with her art. Such is the case with En Trance (1998/2013), an architectural installation with a rotating glass door and a beaded curtain that welcomes the public to the exhibition.
First installations, films, and objects
Born in Tokyo in 1933, Yoko Ono spent her childhood in Japan and America. In 1952, she moved with her
entire family to the U.S. to attend Sarah Lawrence College, outside New York. In the late 1950s, after completing her studies in creative writing and contemporary poetry, she became involved in the avant-garde life in New York City. At this time the artist was first recognized for her innovative experimental pieces of conceptual and performance art. The first part of the exhibition features photographs and films of her first performances and texts, including some of the artist's physical artworks.
Ono's Instructions for Paintings, written in 1961 and 1962, her celebrated 1964 performance of Cut Piece, and the book Grapefruit, a collection of instructions published in 1964, are all still relevant today. These poetic pieces double as a manual for encouraging artistic production, and have all contributed to the definitive consolidation of Yoko Ono as part of the Japanese and United States' avant-garde. She was influential in the formation of the Fluxus movement, which was founded by artist, designer, architect, and gallerist George Maciunas.
On July 16, 1961, the artist inaugurated her exhibition Paintings & Drawings by Yoko Ono at the AG Gallery in New York. The exhibited pieces have little in common with conventional paintings except for the format. These "paintings" consist of pieces of unstreched canvas painted with Japanese ink and installed on the floor, such as Painting to Be Stepped On, or hung near the windows and on the walls of the room. The artist at times provided verbal guidelines on how visitors could interact with the paintings, such as dripping water in Waterdrop Painting, and using your imagination in Painting for the Wind. The Museum displays George Maciunas's original photographs of the exhibition.
Following is Ceiling Painting, a piece that was first presented in 1966 at Ono's exhibition at the Indica Gallery in London. With this piece, the artist invites viewers to mentally climb to the top of a white ladder, where a magnifying glass hangs from a chain attached to a frame on the ceiling. Using the magnifying glass, viewers will discover the instruction: 'YES." This was the piece that brought Yoko Ono and John Lennon together —he was so moved by the positivity of this piece that he asked to be introduced to the artist.
Half-A-Room (1967) and Air Dispensers (1971) are next on this journey. The first piece is a room in which all the objects, from the suitcase to shoes, have been cut in half and painted white. The background theme is the bisection of the physical and psychological, which Ono considers to be a condition of the human existence. Air Dispensers features a candy dispenser filled with seemingly empty capsules. Instead these plastic containers are filled with something valuable— air—which, according to the artist, is 'the only thing we share."
Important Performances
The exhibition continues with a section dedicated to performance art, a discipline in which Ono is revered as a renowned pioneer. In fact, she is considered to be one of the most relevant personas in the so-called 'golden age" of performance art.
After three years in Tokyo, Yoko Ono returned to New York 1964 and immediately immersed herself again in the artistic life of the city. In 1966, she participated in Destruction in the Arts Symposium (DIAS) in London, an international event organized by Gustav Metzger and others that brought together prominent artists from around the world.
This room displays diverse documentation of her most renowned performance, Cut Piece (1964), which was
performed for the first time in Kyoto in 1964 and considered to be a milestone in the history of performance art. For this piece, the artist invited members of the audience to go up on the stage where she is kneeling or sitting, and were invited to cut pieces of her clothing with a pair of scissors.
One of the artist's impressive actions was Lion Wrapping Event (1967), which consisted of wrapping up one of the four enormous lions in London's Trafalgar Square. Her first attempt, using paper, was stopped by the police. The second try, with cloth, was successful because the artist claimed that the wrapping of the lion would become part of a film. This performance was considered a political statement, as she had covered up a typical symbol of the British Empire.
The Museum will also exhibit materials documenting the piece Museum of Modern (F) art (1971). In this extremely ironic, subversive piece, the artist created an imaginary individual exhibition at the Museum of Modern Art in New York by publishing an advertisement in the American newspaper The Village Voice. In a 7-minute-long film called 'The Museum of Modern (F) art" pedestrians were asked whether they had seen the Yoko Ono exhibition at the museum. Most people answered along the lines of: 'No, but I plan to." Yoko Ono wanted to call the public's attention to the fact that the museum held very few art exhibitions dedicated to women artists during that period.
Experimental film
Ono's films have also made a significant contribution to art history in recent times. After her first artistic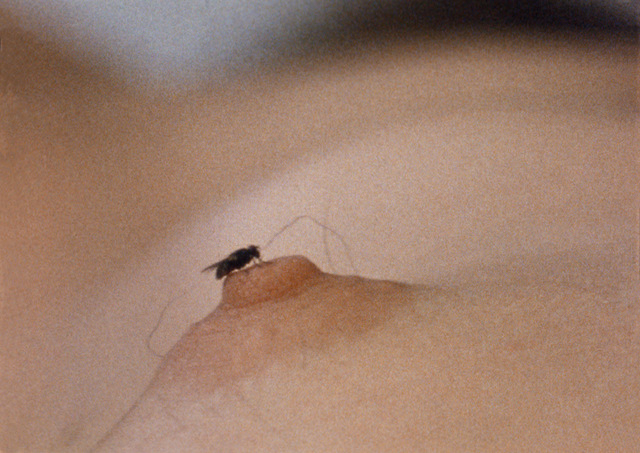 experiences with music and performance art (some belonging to the Fluxus movement), the artist began making film scripts and conceptual films in 1964. By 1972, she had produced a total of 19 films, some in collaboration with John Lennon.
Her underground film proposals reveal the artist's concern for recurrent themes in her life's work, including the body, women's rights, and her personal quest for inner freedom. The Museum features important pieces such as Rape (1969), filmed in London in collaboration with John Lennon. For this film, a cameraman and a sound technician follow a young woman selected at random from the street and stalk her for two days, apparently filming her without her consent, provoking intense reactions of despair.
In the same room, visitors will encounter Ono's renowned film Fly (1970), which focuses on a close-up of a fly walking on a woman's naked, unmoving body. This piece offers viewers the opportunity to discover strange, unique "body landscapes" from the perspective of an insect.
Film No. 1 (Match Piece) (1966) depicts the simple process of a match burning in the foreground in slow motion, being consumed by the fire, a simple phenomenon that nonetheless radiates a transcendental meditative quality when seen up close. This piece can also be interpreted in a figurative sense: the brevity of human existence that bursts forth, burns briefly, and is finally extinguished.
Installations and recent work
The journey continues through a series of large-scale installations created over the past few decades and a series of recent pieces, including Water Event (1971/2013). Yoko Ono originally created this piece for her first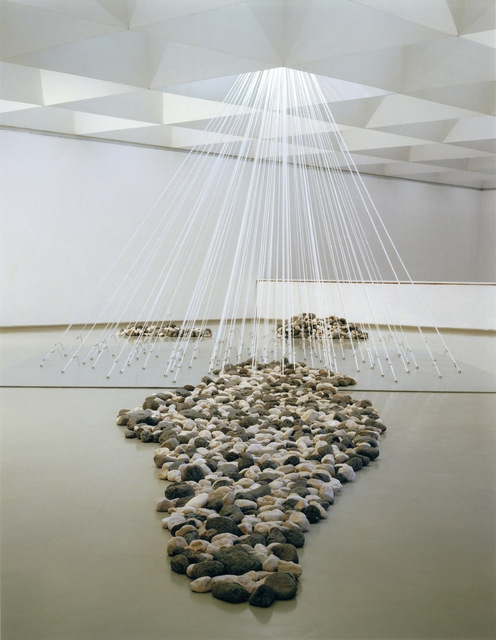 retrospective at the Everson Museum of Art in Syracuse in 1971, inviting her friends to participate with the following message:
"Yoko Ono wishes to invite you to participate in a water event by requesting you to produce with her a water sculpture by submitting a water container or idea of one which would form half of the sculpture. Yoko will supply the other half – water."
Nearly 120 people collaborated on this work of art, including artists such as Andy Warhol, Jasper Johns and Willem de Kooning, composer John Cage, musicians like John Lennon and Bob Dylan, and actor Jack Nicholson. The water containers they provided were extremely varied, from George Harrison's milk bottle to Robert Watts's Volkswagen. Visitors can see the new version of the piece in Bilbao, which includes contributions from artists such as Olafur Eliasson, Christian Marclay, Pilar Albarracín, Txuspo Poyo, Asier Mendizabal, and Vasco Araujo, among others. Water represents a broad range of meanings and metaphors for Yoko Ono. It is a universal resource that is necessary for our survival and, as such, a symbol of egalitarianism. It is also the most prominent component of the human body and, therefore, represents us in a certain sense.
The installation Telephone in Maze (1971/2011/2013) can also be seen in Bilbao, which consists of a maze of plexiglas leading to a cubicle at the center. This central space is built with a one-way mirror, allowing the people inside to see outside while remaining partially hidden to the outside world. There is a telephone in this booth that Yoko Ono occasionally calls to talk to members of the public. Ono's interest in architecture dates back to the early 1960s or even the 1950s. By playing with the viewer's perception and physical orientation, the piece is intended to provoke an unexpected experience.
This same gallery features the powerful Balance Piece (1997/2010), an installation that recreates a room with a powerful electrical magnet attached to the wall on the left side. The artist explores ideas that are essential to Zen Buddhism in this piece, such as the quest for "mental balance" – an attempt to achieve a middle ground between oppositions and self-awareness.
A series of 21 photographs with 21 textual pieces entitled Vertical Memory (1997) completes the room, bringing us along a vital journey from birth to death. The artist created this series by "putting together photographs of my father, my husband, and my son. I selected photographs of them facing the same direction, overlapped them and morphed it. Every photo represents the man who was looking over me in a precise moment when I went through an important situation in my life."
Architecture and representing nature
Another room in the Museum, shaped like a petal, features two dramatic installations, which were conceived as two separate pieces although they have occasionally been shown together due to their complementary nature: Morning Beams (1996/2014) and Riverbed (1996/2014). In Morning Beams, one hundred white nylon ropes suggesting sun rays emanate from the gallery's ceiling down to the floor, where they are anchored with sailing knots.
The same space also features a piece of a very different nature: Blue Room Event (1966). This creation is based on words written by Ono on the walls of the room, with the intent of subverting our normal perception of space. These Instructions include the following: "Stay until the room is blue./This window is 2000 ft. wide./This room is bright blue./This room slowly evaporates every day. /This room glows in the dark while we are asleep."…
Our journey through Yoko Ono's installations ends with a new version of Moving Mountains created especially for this exhibition. This piece invites the public, either individually or cooperating with other people, to enter the bags to form mobile sculptures in the room, all to the sound of Yoko Ono's song Moving Mountains, from her album Between My Head and the Sky.
The exhibition ends with a space that is entirely dedicated to the artist's music, with videos, concert recordings, CD and LP covers, concert posters, and broadcasting stations playing her music, including Yoko Ono's collaborations with her son Sean, among others. In 1970, Yoko Ono/Plastic Ono Band was released, marking a milestone in her ongoing musical career.
Dream, Fly, Imagine
Yoko Ono is famous for using urban spaces as an extension of her exhibition space. A series of billboards will be placed at select points throughout the city for the exhibition in Bilbao. The artist has chosen the following messages: 'DREAM," 'FLY" and 'IMAGINE." These words can be interpreted as a thoughtful poetic break from the bustling life of the city.
Catalogue
The Guggenheim Museum Bilbao has published an exhibition catalog in Spanish, edited by Ingrid Pfeiffer and Max Hollein in collaboration with Jon Hendricks. The catalog includes essays on cultural aspects of Yoko Ono's work, written by Jon Hendricks, Ingrid Pfeiffer, Alexandra Munroe, Kerstin Skrobanek, Kathleen Bühler, and Jörg Heiser, as well as a selection of texts by Yoko Ono and an illustrated chronology.
Didactic space
A didactic space has been designed to complement the exhibition, which depicts Yoko Ono as a seminal artist. Key concepts of her artistic production, such as Instructions, performance art, activism, and participation, are presented through texts, images and videos.
---